Alpacas come in 23 natural colors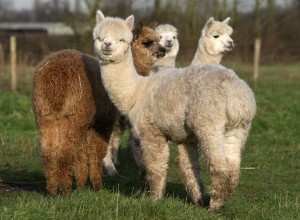 Sensitive to their environment in every respect, alpacas have soft padded feet instead of hooves and can leave even the most delicate terrain undamaged. Damage to topsoil decreases long-term soil fertility and in the process, the soil is eroded and weed invasion is encouraged.
Alpacas prefer to eat tender grasses, which they do not pull up by the roots. Lacking upper teeth, alpacas "cut" the grass with their bottom teeth and upper palate. This vegetation cutting encourages the plants' growth. Because they are modified ruminants with a three-compartment stomach, alpacas convert grass and hay to energy very efficiently, and stop eating when they are full, further preserving the landscape on which they live. However, alpacas do not mind eating brush, fallen leaves, and other "undesirable" vegetation, leaving the "good stuff" for species that do not have the stomach to digest such roughage.
Please go to Openherd to find alpacas for sale in your area.